Testimonials
---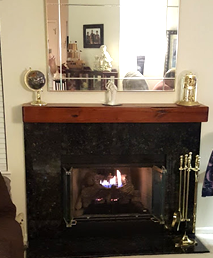 Hi Tom
Happy New year to you. We love the fireplace surround and have been getting a lot of compliments on it! Deborah Webster
Guys
Everything looks great! We love it and the workers also did an amazing job. Thanks for all your time and hard work Grazia
Tom:
We are still in the mess of remodeling, but must tell you: Everyone has commented on the "Water Fall" and loves it The Labrador Stone constantly changes it appearance as the light changes between sun, LED's , etc. - love it Quality exceeded our expectations Crew met the schedule stated, performed as explained and cleaned up behind themselves. But mostly, out of all the contractors we've had perform work, Granite Creations has been the ONLY one that has down what they said they were going to do! You suggested we look at the slab prior to doing anything, asked for our opinion on the layout on the slab, offered your professional ideas, set a schedule for completion and met or exceeded those dates. Thank you for everything. It was a pleasure working with you again! Sincerely, Hugh Luedtke
Ajax Paving Industries, Inc.
hluedtke@ajaxpaving.com
(248) 388-5594
Hi Shawn!
I just wanted to let you know that the guys you sent were wonderful! Thanks for the great customer service! Reiko Buckles
Hi Tom,
sorry so late with getting back to you...it's been crazy busy around here! I love it Tom! We are both very satisfied. Thank you for all the help and suggestions you gave me while I had such a difficult time making a decision! You were all phenominal and patient with me....most appreciative for that. We just got all our furniture delivered back to the house (because we had hardwood installed also) and we are very pleased with the look!! Thank you again Tom, I was a pleasure dealing with all of you at Granite Creations, MSI, and Dwyers! Great group!! If appropriate...Merry Christmas to you and yours! Sincerely,
Shirley & Ron Stonewall
Tom,
Meant to send you something earlier but you guys did a fantastic job. I was really impressed with the stone and the seams! The installers did a great job as well and the counters came out exactly as we hoped for. :) Installers were really professional by the way. It was a pleasure working with your company. Ashley
Tom,
I just wanted to say thanks to you and your staff at Granite Creations. You worked with us throughout the entire process and were very patient with us. You truly did give us excellent service and held our hand throughout. The countertops for our kitchen and bathrooms look great and I wouldn't hesitate to recommend Granite Creations. Rob and Sheila McCarthy
Birmingham, MI
Hi Tom,
Just taking a moment to say a huge "thank you" to you and your employees for our recent granite purchase and installation. From the no-pressure shopping and expert suggestions from you Tom, to the finest quality products, and the highest quality installers (Jason, Juan and Tommy), our experience couldn't have been better! We can hardly wait to come back when we redo our bathrooms!! Keep in mind when you view our pictures, that we still have to install our wall tiles:-( All our best,
Steve and Sue Ferrell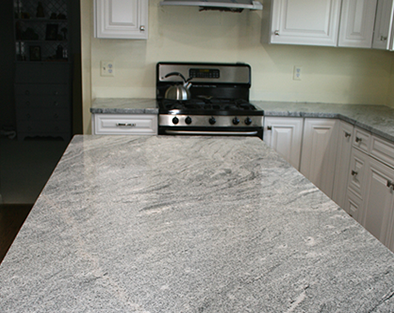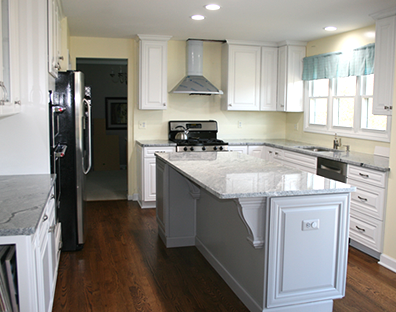 Tom,
Gary and I have been in our new home for 6 weeks, and I want you to know how thrilled we are with the granite you installed. I struggled with the granite counters in the kitchen at first - it seemed too busy with the cherry wood cabinets, oak wood floors, redwood siding in part of the kitchen and the very large chimney with multi-colored brick. Now I recognize that the granite pulls it all together, and what's more, I love getting up in the morning and gazing at the variation in the colors of the granite. There is something new to discover every day! And I told you a sink didn't make much difference - but I am so glad we went with your specialty sink. It is both beautiful and functional. The Red Bordeaux granite hearth adds lots of class and actually tones down the chimney brick on the living room side. I appreciate you and your excellent service. You and your team do fantastic work, including holding the hand of a worried, obsessive client! With MUCH appreciation,
Della DiPietro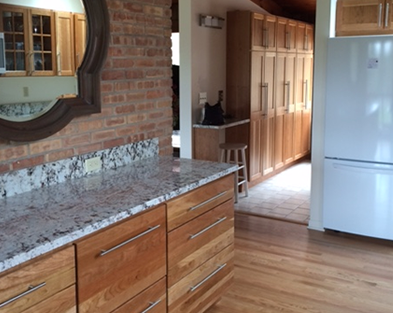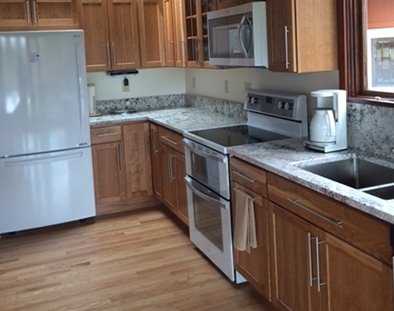 Brenda and Tom Kroswek
Dear Mark,
We wanted to be sure to thank you for our beautiful granite. We couldn't be happier with the entire process, each step of the way. We would especially like to thank you Mark Parent as well as Bruno, Juan, and Adam for going above and beyond the call of duty to make sure we were pleased with our purchase. We look forward to calling on Granite Creations again for all of our future needs! Please share our appreciation with your staff! Sincerely,
Brenda and Tom Kroswek
S. Anthony Elwood
To whom it may concern,
Around seven years ago my family moved from Ohio to South Lyon Michigan. We'd just purchased a recently built home and were very pleased with it, except for the counter-tops. As a Christmas gift for my wife, I offered to get all the surfaces (155 square feet of total counter-top space) redone in granite. We shopped around and visited 5 outlets that sold and installed granite. After visiting Granite Creations, we were sold. The kids got to pick out their own bathroom counter-tops and the staff was very professional, courteous and knowledgeable. I can honestly say that the total product Granite Creations provided (sales, installation and clean-up) was the best experience I have ever had on a home improvement project. Far and away the most consistent compliment we ever get from guests at our home is about those granite counter-tops. My only regret in sending this letter is that it has taken me so long to write it. All the Best
Rod Franchi
Hi Tom,
Well, your countertops look great. We are unpacking and getting situated in the kitchen this morn. We'll send a pic of the kitchen when it's all set up. Your close work w us translated into a great result. Thanks, Rod.
Zuzana Callanan
It was such a great experience to deal with Tom Budd and his team. One of the few trades that delivered as promised. They worked with us under a tight deadline that we had to change a couple of times. Price was fair and service was great. In comparison to other granite places, I loved their "small" business environment, the commitment and even the ability to find time for a small talk... Willing to go above and beyond to help out. Thank you!
Renee
We couldn't be happier! It is all just so beautiful! The vanilla cream makes such a dramatic statement in our open kitchen/living area. And the lapidus -- I know you hate our dinky sinks, but they allow us to see more of that amazing stone! Thanks so much. You and everyone there have been great to work with.
Brian and Hamida Dougherty
Hamida and I are writing to express our satisfaction with your company's fine work. The granite installation job performed today by Alan and crew far exceeds our wildest expectations. The result is downright gorgeous! Alan and the crew were punctual, diligent, conscientious, and they epitomize professionalism. Bottom line: if every organization handled its business as well as yours, the world would be a much better place. If we should find ourselves in need of your services again, we hope Granite Creations will consider resending Alan and his crew. We are that impressed - and grateful - for their fantastic work and positive attitude.
Kay and James Hile
Thank you to you and your great team for absolutely delighting us ! You and your team consistently "exceeded" our expectations. We feel that the Granite Creations team excelled in every aspect of our experience. Customer Commitment - From the first time we met with you and your team through the installation, every person we worked with was positive, enthusiastic, and clearly committed to doing whatever it took to insure we were completely satisfied ! What a great team you have! Quality Driven - We were constantly impressed by both the quality of work. One example was when our granite was installed. After spending 5 hours leveling, adjusting our granite, Mark Erwin told me that one seam was not up to his standards (I thought it looked fine). Mark then proceeded to remove the granite and reinstalled it again. He worked on it for more than two hours until he felt it was "perfect". Exceptional Value - In our minds, "value" is a lot more than price even though we found your pricing was the best. The real value you and your team added were the improvement ideas you constantly offered, which significantly improved our initial plans. Bottom line, you and your team really know what you are doing and we benefited greatly !in every aspect of our experience.
Jim and Debbie Sorisho
This past October, my son was seriously injured in a hockey accident. Although this was a very difficult time for my family, we were so comforted by the kindness and generosity of friends, family and people we didn't even know. Due to this accident our home needed to be renovated to accommodate my sons needs. Volunteers and generous people donated time and materials to do the renovations. Granite Creations was one of those generous donors that contributed to this effort to renovate our home. We were so impressed with how efficiently Granite creations completed manufacturing the granite and had it ready for installation when it needed to be. Their workmanship was meticulous, with great attention to detail. We are so appreciative to Granite Creations for their generosity, donating the granite, labor and installation. Although this has been a challenging experience, we are blessed to have so many wonderful people supporting us. We are so grateful to the wonderful people at Granite Creations.
Yvonne Roggenbuch
I would like to thank you for such a great crew (Scott and Mark) that installed our granite counters. They were very helpful and knowledgeable on some decisions I had to make. Highly recommend this crew and company. I give this a "10 1/2"
Lisa Smith
Just wanted to thank you for our vanity counter tops. It's absolutely beautiful and I love it !
The Sergent family
We absolutely love our counters and will be back soon for our bathroom !
Janet Rojo
Dan and Eric were fantastic. They were professional, polite, and informative explaining how to care for marble. And they cleaned up !
Sharon K
We are so pleased with the marble counter tops in the kitchen. Mark and Scott did a great job installing the tops ! They both were very professional, neat, and helpful telling us about the marble. Thank you for sending such an outstanding team to our home.
Ashish Joag
Countertops look great. Your guys installing them were good. I have another friend of mine is thinking of doing their bathroom and fireplace. I will send him your way.
Rod and Gail Fisher
Thank you for sending Don And Al to install our beautiful granite counter top. We had a difficult situation with our cabinets being not level ,as our home is not new and things shift through the years. They did not want to install the first visit as they felt they would be putting our granite at risk for cracking. We are so glad we listened to their expertise.. The cabinets were leveled and they installed today....we love our new granite counter top and Don and Al were polite and friendly going out of their way to make sure we were happy. You are very fortunate to have them on you staff of installers. We will recommend them as well as Granite Creations to everyone... Thank you again...Don and Al.. God bless you.
Eileen Young
The granite was installed this morning, just thought I would let you know the guys did a really nice job with the installation and it looks great. Thanks again for your help in making my decision and laying it out.